805-484-7477
Free Equipment
Evaluation Or
Demonstration!
Call Us!
805-484-7477
Call Now
Lindsay Engineering is
devoted to lowering
production costs
& risk for our clients.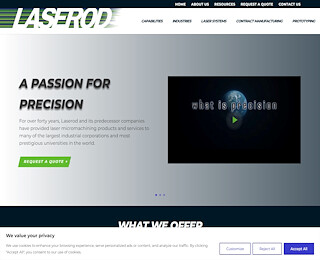 When you need extremely small components manufactured - components that can be as small as one- thousandth of a millimeter in size - who will you turn to? Who will you trust to achieve the most precision and efficiency? Laserod is a Femto laser cutting company that provides Femto laser machining, the most advanced laser cutting technology in the world today! Laserod provides Femto laser cutting for small and bulk orders, and we guarantee the highest degree of precision of any micromachining company. With Laserod's state-of-the-art laser cutting equipment, Laserod is able to process a wide range of materials, providing enhanced surface and geometries quality. When we are dealing with tiny components, there is zero room for error. No two projects are the same. That is why Laserod is the industry leader in customized laser cutting solutions. Contact us today to receive a free quote.
What You Get from a Femto Laser Cutting Company
With Femto laser cutting, we can avoid thermal effects, thanks to minuscule heat diffusion time (<300 fs). The Femto laser has a high repetition rate, which allows for excellent productivity. This means better cutting and more efficiency. Femto laser cutting can be used in a wide variety of common materials, including the following:
Brass
Precious materials
Copper
Ceramic
Steel
Stainless steel
Polymers
Titanium
The Femto laser is an ultra-short pulse laser that features:
No recost layer
No debris
No melt zone
No HAZ
No shock waving
Ultrashort laser pulses
No micro-cracking
No heat to surrounding material
No damaged surface

The Femto laser offers flexibility in turning, cutting, and drilling. With ultra-short laser pulses, each pulse that hits the work component vaporizes a tiny amount of material. This process continues until just the right amount of material has been removed from the work component. This process happens in a very controlled manner, aided by 3D visualization, which makes for perfect cuts with no damage, burrs, or adverse influences to the integrity of the work component or its materials.
What are the Benefits of Choosing a Femto Laser Cutting Company?
When manufacturing tiny components, the key is precision. No other Femto laser cutting company offers the same level of precision as Laserod! Precision and efficiency are the two main benefits that Femto laser cutting provides! You can trust Laserod for the laser cutting of your miniaturized components. Whether you are in the medical industry, electronics industry, or other industries, Laserod uses Femto laser cutting to manufacture the world's smallest parts.

Our clients have trusted Laserod for many decades, including small businesses and Fortune 500 companies. Here are more benefits of working with a Femto laser cutting company:
FEMTO source <300 fs>
Highest level of accuracy and productivity
Stable and repeatable quality
Cold ablation keeping material integrity (NAZ)
Proven performance in 24/7 industrial environment

Femto laser cutting allows Laserod to achieve various processes, such as cutting, drilling, and turning in just about any kind of material. If you have difficult-to-machine materials, parts, and components, entrust it all to the world's leading Femto laser cutting company - Laserod!
Femto Laser Cutting Company
Laserod Technologies, LLC
3103285869
20312 Gramercy Pl
Torrance
CA
90501
View Larger Map
We welcome your comments!
805-484-7477
Call today for a free equipment evaluation or demonstration!